Featuring Staff Nurse Nathanyrose Christie L. Maravilloso, IPS 10
and Staff Nurse Shane Jacutan, Radiation Oncology Suite

Everyone had a dream job growing up. Some dreamt of becoming teachers and there were others who wanted to become doctors or lawyers. There are some, however, who grew up inspired by their family members and what they do. For Staff Nurse (SN) Nathanyrose Christie L. Maravilloso and SN Jacutan Arianne Shane, nursing runs in the blood.

Born to Love the Art of Nursing
Ask any nurse you see and they will probably tell you it is not an easy job. When asked why she decided to be a nurse even though she knew how challenging it would be, SN Nathanyrose smiled and said: "I admire the profession. Many of my family members are nurses- that's what inspired me to be one."
"I love taking care of people and simply being around people. It feels good knowing that I could be part of someone's wellbeing or just being there with them in the process of them getting well," added SN Nathanyrose, who has been a ward nurse at Farrer Park Hospital since 2015.

SN Shane, a nurse who cares for and assists cancer patients for treatment at the Radiation Oncology Suite, credited her parents as her main inspiration for entering the profession.
"Since young, I've always wanted to be a nurse. Both of my parents are nurses. Seeing them care for sick patients day after day yet feeling fulfilled; it really inspired me to take on the same (career) track as them," shared SN Shane, "My brother was also a nurse and my sister is also in the medical field as a pharmacist."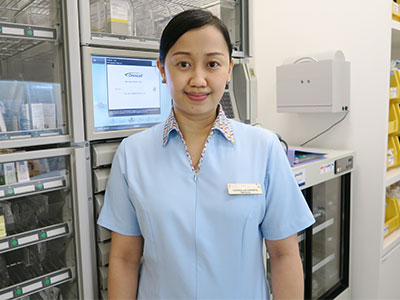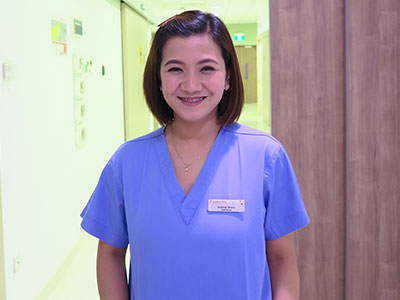 Resilience is Key
Just like any other profession, there are also difficult moments in nursing. While many may think it is just a job that showers sick patients or feed them medicine, the scope of nursing extends beyond that. What matters most is staying resilient and strong, against all odds. Having come from a family of nurses, SN Nathany and SN Shane long understood what they were in for when they decided to be a nurse.
Having been a nurse for almost a decade now, SN Shane has experienced what it is like to be a nurse in various departments. Bringing up her previous experience caring for the mentally ill, she said: "Most of the patients I cared for then are often abandoned by their family members. It was really difficult and painful for me because most of the time, they would call me over and plead with me to call their family members."
"What I can do for them is simply being there for them, caring and listening to them so that they won't feel like they are alone," added SN Shane.
In nursing, no two days are the same. It could be a day spent listening to a patient's past experiences with a few hours spent trying to keep them safe.
For SN Nathanyrose, nursing has always been her dream career; one inspired by her family and close friends. However, it was not always a bed of roses. She revealed that there were also times when she would feel that perhaps she might be better off with a job that can give her a "chill life". However, whenever this happens, she said she would always go back to the reason why she took up nursing.
"I just need to believe in myself and trust that it (choosing nursing) is all worth it," SN Nathanyrose said, "I can't imagine myself working an 8 a.m. - 5 p.m. shift every day. I love what I do and I'm really proud to be a nurse."