Commemorating Farrer Park Hospital's 6th Anniversary
Since our founding in March 16, 2016, Farrer Park Hospital has held steadast to our goal to provide patients with a fresh approach to medical treatment. In the last 6 years, we have also evolved to become an oasis for patients who seek quality healthcare; engaging them as partners in the pursuit of good health. With a care philosophy guided by doctors for patients, Farrer Park Hospital puts the heart back in healthcare.
The significant milestone marks a new beginning for the hospital, as we sail through the storm of the COVID-19 pandemic to usher in a new era of healthcare with the same commitment to quality care.


---

6 Years of Service, A Lifetime of Memories

Farrer Park Hospital's journey began more than a decade ago before our doors was opened to public. As we commemorate our 6th anniversary, we look back at the fond memories and precious bonds formed, and take a walk down memory lane.
---

Our Pioneers

---

FPH Expands Sustainability Efforts with Tree Planting Session along Sengkang East Way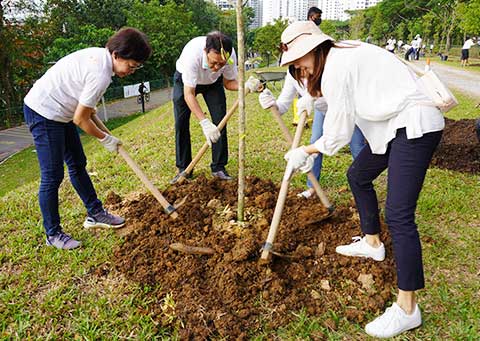 On March 12, 2021, some 25 representatives from FPH planted 50 trees along Sungei Serangoon Park Connector in support of Garden City Fund's Plant-A-Tree programme. This marks the first time a hospital in Singapore is supporting the green initiative.

Held in commemoration of our 5th anniversary, the trees were planted by staff volunteers which include pioneering staff, specialists from Farrer Park Medical Centre and representatives from our Board and management.

Click here to learn more about it and here to view our photo gallery.
---

Arts @ Farrer

Did you know that there are over 700 original 2D and 3D art works in Connexion, where Farrer Park Hospital, Farrer Park Medical Centre and One Farrer Hotel resides?
One of the most prominent pieces in our Farrer Park Hospital premise is a 6m abstract painting titled "Gigantic Oceans" by Cultural Medallion (1989) artist, Mr. Goh Beng Kwan. The commissioned piece was completed in 2014 and is permanently housed in the lobby of our hospital's main entrance.
Mr. Goh revisits the masterpiece after almost 7 years, and shares the inspiration behind the artwork with us.