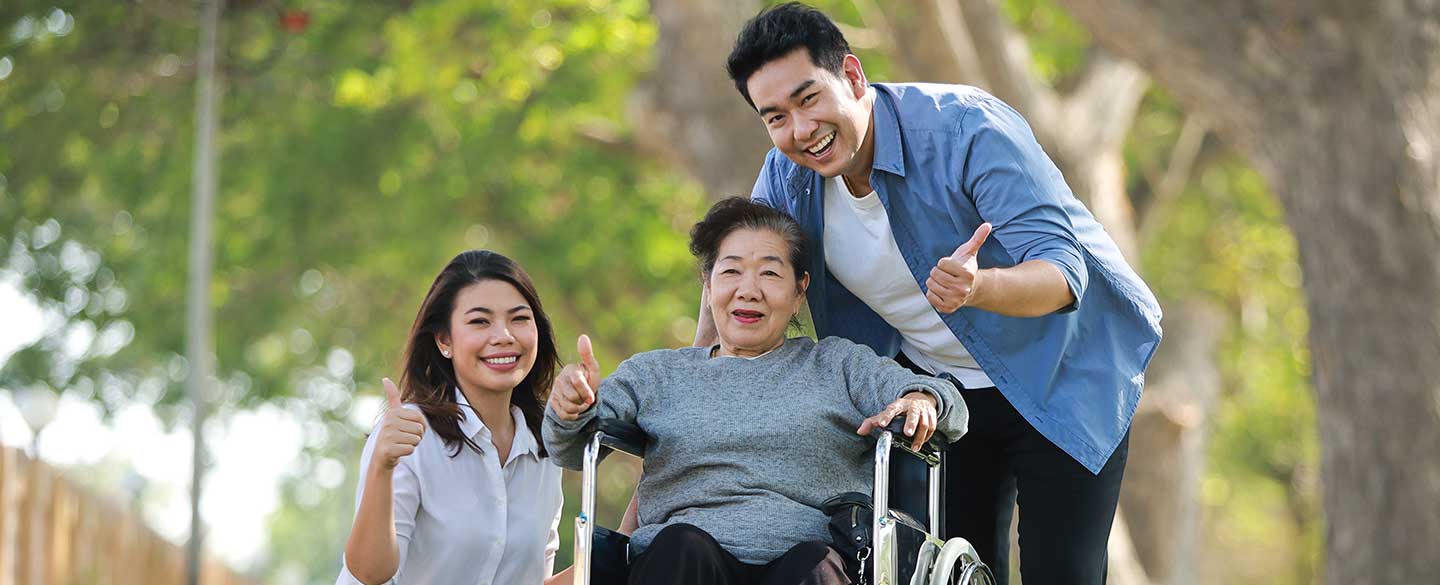 As there are no clear signs of how dementia progresses, the duration and what change to expect can be unsettling and worrying for people living with dementia.

Dementia has a negative effect on the relationship that one has with his own body and with others living around them. According to a qualitative study1 from a first-person perspective, it was found that despite the memory losses and difficulties, it is the attitude of others that has the most impact. They felt scrutinized by the suspicious gaze of others and also sensed that people often assumed that they were now less capable of doing anything. This makes them feel that they were no longer taken seriously.

From feelings of disorientation and memory loss, dementia progresses to increase dependency on caregivers which may lead to self-doubt and in some cases, depression.


Shared Care Model
Person living with dementia require a variety of medical services and care, making integrated care essential for the ability to continue living well and safely in the community. Our doctors from many disciplines, including neurology, neuroscience, geriatric, psychology and psychiatry, collaborate to care for the person living with dementia. They work together as a team to diagnose and determine the most appropriate treatment for condition. Your test results are monitored and appointments are coordinated.

Farrer Park Hospital's panel of specialists and clinicians have the expertise and experience in evaluating and treating dementia, and will work with you and your family to develop a treatment plan that suits the needs.

Be around people living with Dementia
For people with dementia, fostering contact with people of the same kind is known to be experienced as a relief. Not only because they can talk about living with the disease and exchange advices, but mostly importantly they can relate with each other. There is an element of 'unspoken understanding' and the ease of engaging with peers increases their freedom and space.

Tell people about your Dementia
When you are ready, it is best to tell others about your diagnosis. It is also good to tell them what you may have trouble with, such as following a conversation or remembering what was said. You can always explain what your diagnosis means and the ways in which they can help and support you; such as driving to a social activity or medical appointment.

At some point, you will find it harder to stay in touch or remember whom you had met before. Keep your social life active and constantly meet new people through activity and support groups.

Look after your health
Having dementia does not means you can overlook your physical and mental health. Make sure you have a healthy, balanced diet and drink plenty of fluids.
Exercise regularly and this can be a daily walk or gardening. Get enough sleep and stay engaged with things you have been doing regularly.

Depression is very common in dementia. Talk to your family physician first and if a further assessment is needed, our psychiatrists and their team of psychotherapists can advise of the necessary steps.

If you have a chronic condition, such as diabetes or heart disease, go for your regular screening and take the opportunity to review your medications.

Familiarity and routine helps
Have a regular routine and if it helps, put up a schedule of activities in the space at home where you can see or normally hang out. Try to put all of your belongings in the same place where it is visible to you.

People with dementia have a high tendency to falls. These falls may be as frequent as three times a day which may result in a fracture on their hips which may lead to surgery and immobility. If possible, make sure your home is dementia-friendly and safe for you to navigate around.

As the disease progresses, many may fear that they are becoming a burden for others. This somehow also ignites some positive feelings of importance of relationships and how patients appreciate their caregivers for their time and efforts.

There is no doubt that dementia definitely has some degree of negative effect2 on the life of the patients. However, there are cases of people living with "happy dementia" and continue to live very well till the end. For instance, using reminiscence therapy3 helps them recall the many happy and treasured moments. Another instance, using hugs and fiddling with physical objects trigger calm and soothing sensation4.


Additional resource from Dementia Singapore
Being part of a support group like Dementia Singapore or accessing their online resources at https://www.dementiahub.sg/ helps to prepare the caregiver for the role. In addition to these online resources, you can also draw on the experiences of other caregivers and care professionals by networking during their workshops or by participating in their community activities.

References:
1 https://journals.plos.org/plosone/article?id=10.1371/journal.pone.0214724
2 https://www.cambridge.org/core/journals/international-psychogeriatrics/article/abs/suffering-from-dementia-the-patients-perspective-a-review-of-the-literature/049352430298312C687EC230C1F26D47
3 https://dailycaring.com/4-ways-reminiscence-therapy-for-dementia-brings-joy-to-seniors/
4 https://researchfeatures.com/laugh-improves-wellbeing-happiness-advanced-dementia/

Listen as Dr. Ravindra Singh Shekhawat discusses understanding dementia and future treatment possibilities in the form of new therapies and drugs.
---

Related Links