Nuclear medicine imaging provides very detailed pictures of what is happening inside the body, and can uncover abnormalities which might otherwise go undetected.
We conduct Positron Emission Tomography (PET) scans, one of the most frequently-used methods of imaging. It allows physicians to detect extremely small growths and very subtle changes of function in organs, tissues and other parts of the body.
This allows physicians to treat conditions earlier and more accurately.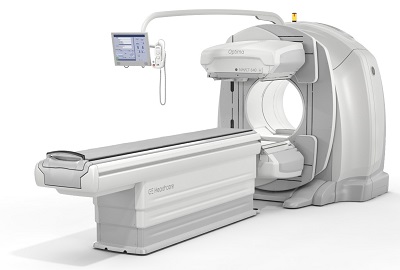 SPECT Scanner
The procedures are used to diagnose and manage the treatment of:
Brain disorders, such as Alzheimer's disease
Bone disorders
Cancer
Gastrointestinal disorders
Heart disease
Kidney and thyroid disorders
Lung disorders
The examinations require the administration of a small amount of radioactive materials called tracers, by injection, swallowing or inhalation.
---
Contact: (65) 6705 2777
Location: Level 3

Operating Hours:
Mon-Fri: 8.00am – 5.30pm
Sat: 8.00am – 1.00pm
Sun & PH: Closed​