---
Pre-Procedure Consultation
Measurement

Height, Weight, and BMI
Blood Pressure


Meet with HCNX doctor for medical history taking and screening for suitability and indication for colonoscopy.
Verify the patient's current medications (i.e., blood thinners, etc.)
The doctor reviews the patient's medical for any risk factors such as:

Age 75 or older
Obesity
History of severe cardiac, renal, pulmonary, or hepatic disease
History of difficult, incomplete, or poorly prepped colonoscopy.
History of risk or difficulty with sedation or anesthesia
Drug allergies
Pregnancy
Discuss the screening colonoscopy procedure, preparation and answer patient questions relating to the procedure
Pre-registration paperwork to minimize patient hassle and wait on procedure day

How to Prepare
Most people should get screened for colon cancer no later than age 50. Before the procedure, it is essential to clear your colon of solid waste before your colonoscopy adequately. Use the prescribed laxatives to bring on bowel movement. If your colon is not entirely cleared, your doctor may not get a clear view. In such cases, the procedure may be rescheduled or stopped. It will cause a delay in diagnosis and treatment.

Your physician may advise you to take or avoid certain medications before your procedure, depending on your situation.

What to Expect
Colonoscopy takes about 10-20 min and is usually performed as a day surgery procedure. Before it starts, you will be given mild sedation to relieve any potential discomfort. You will lie on the side, and your knees tucked into your body. During the procedure, the doctor will insert the endoscope into your colon through your anus. Additional procedures, such as biopsies and polyp removal, may be performed if necessary.

After the procedure end, we will move you to the ward for observation until the sedation wears off. You will serve you light refreshments, and the specialist will visit you to explain the results at the bedside. If the screening is normal, you will be discharged.

We have introduced artificial intelligence (AI) assisted colorectal screening to help improve detection, classification, screening, and surveillance for colorectal polyps and cancer. Learn more.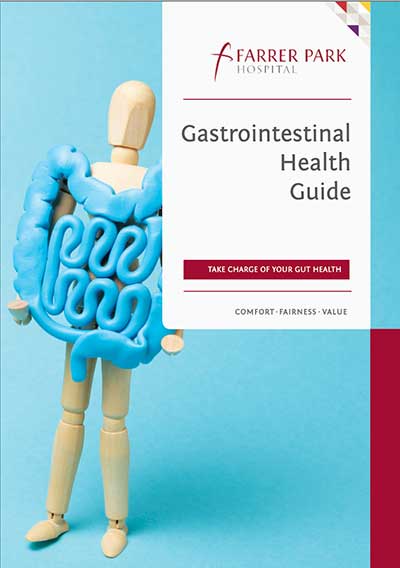 Think you know your gut health?

Download our Gastrointestinal Health Guide here.

List of Empaneled Clinics

---
If you'd like to find out more, send us an enquiry, call us or make an appointment with us.
---